Gift Cards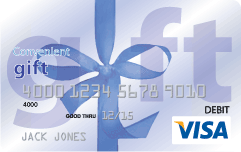 People's Bank of Seneca has gift cards available for sale at any of our branch locations. These are great for occasions such as birthdays, anniversaries, graduations, weddings, or Christmas gifts.
The Gift Card can be used wherever Visa debit cards are accepted, around the world. It works like any other prepaid card. This includes grocery stores, the mall, gas stations, restaurants and more.
The Convenient Visa Gift Card does not provide access to cash.
You can load up to $500 on a card with a minimum of $10.
Not reloadable
May lose value*
Card issued by First Century Bank, N.A., member FDIC, pursuant to a license from Visa U.S.A. Inc.
NOTE: Card must be registered in order to be FDIC insured.
* Beginning in the 13th month of inactivity after the Card is purchased, a monthly inactivity fee of $2.50 will be assessed to the
Card. This fee will be assessed to the Card each month as long as there are funds remaining on the Card. If the cardholder starts
using the Card again, this fee will resume only after another 12 months of inactivity. If the Card has less than the $2.50 fee
available, we will debit the remaining available balance of the Card, and the Card will be closed.